My 10k Run for Kleine Levin Syndrome
In April 2013, as Jake's mum I started the journey to find a fitter and slimmer me - between April and December, I managed to lose 5 stone in weight and along the way I was challenged to run 10K - I am not a runner, have never run anywhere ... when I started training in December 2013 I could not even run the length of a football pitch.... The Lymington RNLI 10K is a great fundraiser for the RNLI, it is on the South Coast running along the Solent Way and is supported by HM Coastguard Lymington, with whom Jake's Dad volunteers.
I had realised that each time Jake was in episode I was housebound caring for him, eating more than I needed for comfort and support and not really looking after myself - as I never knew when he would next need 24/7 care. Loosing the weight and learning to run has made me look at the world differently - I want to show that KLS does not stop you reaching your goal, no matter how long the episodes are, how frequent they occur - if you want to achieve something enough you can find a way to make it happen... in the last year we have all learnt to except the condition much more....
Achieving the impossible - I did it!
Today I ran my first 10k, and I feel amazing for achieving it. I ran this race for me, it was a personal challenge which at the beginning I thought would be impossible – but I did it! I ran the whole way ... and what's more – I was not last! I actually came 800th - there were 922 finishers.... and did it in 1 hour 4 minutes and 37 seconds.
When I think of how far I have come in the last year, my weight loss journey – where I have lost just over 32 kilos, and the fact that I have gone from hating running and unable to run the width of a football pitch to needing to get out and run at least three times a week, I am still amazed myself at the transformation.
I was asked who I was raising money for, and I decided that if people wanted to support my run, then I had to raise money for KLS-Support UK. KLS Support UK are a small charity, (affiliated to the KLS Foundation in the US) started by three mum's in the UK whose teenage children all have the same rare condition that my own son has been diagnosed with. I hope that the money I raised could go towards funding answers that could lead to treatment for my son's condition or funding opportunities for parents and patients living with Kleine Levin Syndrome (KLS) to meet annually with other people that understand.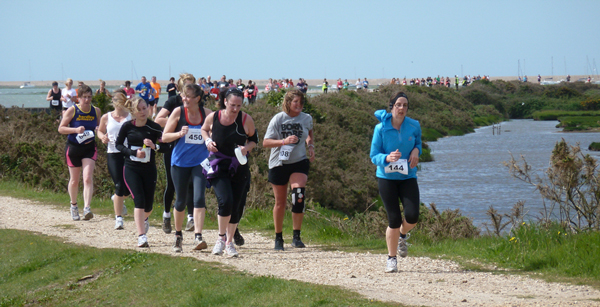 Running today was hard, my personal journey it was about achieving the impossible – or what I thought was impossible –  getting to this point has been overwhelming with the support from friends and family – I have had people tell me that they admire me, and they are proud of what I have achieved – and I am proud too – but I am just a mum doing what I promised to do the moment I knew I was going to have children – loving and protecting my children and giving them all the best start I can. I am more proud of the amazing young people that I have got to know over the last three years since KLS invaded our family....
Everyday there is a group of young people who wake up  not knowing whether it really is the day they think it is, they work hard at school and work to do the best they can, but they never know whether they will be awake for their exams, their prom, a concert, their sibling's birthday, Christmas, the first day of college, or even just following through a commitment they have made – they may have had another episode, they may have slept through days, weeks or even months ... and yet they pick up the pieces of their life, they battle on to maintain their friendships and they never give up – they just keep trying to be the best they can – and for those young people it is just normal life. I think they are amazing and truly inspiring.

I admire their siblings – who never know when life is going to be put on hold, when they have to be home bound, to take extra responsibilities on, or who have to watch their sibling miss out on the everyday and who have to listen to the rumors, the negative comments and who would give anything to make their sibling better.

I admire my fellow  parents – it is a journey that I wish no one had to live through – and we all think each other's KLS is worse than our own – yet for all of us it is a living hell -  you have hopes and dreams for your children and you want them to achieve them no matter – but most of all you want people to believe in your children, have faith in their abilities and not to stereotype them into a mould – my KLS friends have that amazing strength – they never give up striving for the best for the children, for themselves whilst reaching out to support others and I admire everyone of them...

So at the beginning I thought the 10K was impossible – but through the support of the KLS community online – I have had my eyes opened, to appreciate and enjoy the good moments in life as you never know how long you have them for, and that no matter how much long that tunnel of gloom is – you can achieve the impossible with the help and support of your friends.
Back in 2008 – my healthy 10 year old son swam 10k for Water Aid – he wanted to make a difference and to help ensure that every child had access to fresh water – he raised a staggering £1,011.30 – see here  - he achieved the impossible so when he suggested that he would like the family to raise £1000 for KLS, we have had to find a way.... running 10k is easy compared to living with KLS, and my effort to show support.

Since August 2011 – My son has had over 72 episodes, in 30 months he has missed over 12 months due to episodes....  yet everyday he is determined to achieve his potential – do the best he can, and well he inspires me to say no matter what happens the impossible is possible – you just have to go for it, do your best and try, try again ....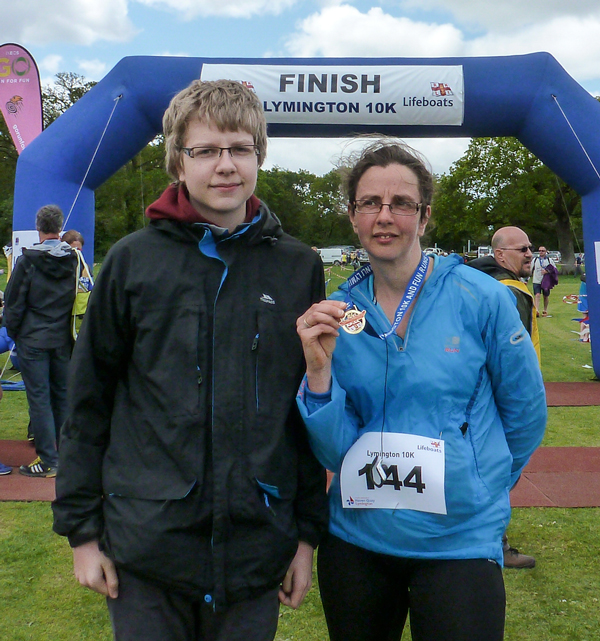 Jake's goal now is to raise at least a £1000 for KLS
– thanks to your support - we achieved this and more...
We are continuing our efforts in 2015 - by doing the Great South Run... see here